Private Listings or Estate Agent?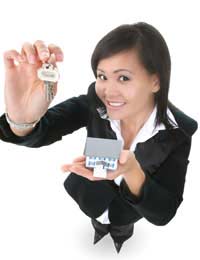 In our modern world there are myriad methods of finding accommodation, but usually it comes down to two main avenues of action: searching private listings or engaging the services of estate agents. In the past, private listings were found only in newspapers and estate agents were seen as providing a pompous service for the posh. How things have changed!
Today, accommodation seekers from all walks of life scour private listings in local and national newspapers, magazines, community notice boards and web sites while their colleagues (or competitors) discuss their needs with private estate agents. For many accommodation seekers the number of options may seem overwhelming, but the good news is that they can all be used to the seeker's benefit.
Using Private Listings to Find Accommodation
Many accommodation seekers shudder at the thought of rifling through daily newspapers only to find an open house that requires them to stand on the cold pavement for an hour before a mass viewing. Thankfully with a few key tips, these scenarios can be eliminated from an accommodation seeker's search all together. When using private listings:
Avoid listings that only include viewing times. These property owners are clearly uninterested in helping prospective tenants or buyers.
Use the contact information provided in private listings. Call or email the property owner with questions before wasting time travelling to and from a viewing (your idea of a "spacious two bed" may not include the pull out couch that the property owner feels fits this description).
Log on to search for the property listed. Many websites exist that may provide pictures or virtual tours of the accommodation.

Use the address provided to research the local community and amenities (schools, libraries, leisure centres, etc.)
Do not be fooled into believing that you and the property owner can complete any and all transactions without professional services. Remember to line up a solicitor to help you with property purchases and a home inspector to put your mind at ease about the condition of the property. At the very least never sign anything before having a professional look over the documents.
Ask the property owner why they chose to advertise by private listing. The answers can be illuminating for some potential tenants and buyers.
Do not believe that you and the property owner are friends. While it is always better to deal nicely with people, you are still a prospective tenant or buyer and the owner is still looking to make a good deal. Friendship has no business in these transactions.
Using Estate Agents to Find Accommodation
Estate agents are a group that often receive bad press. In reality, many accommodation seekers feel that their interactions with estate agents are unsatisfactory because they forget the golden rule – estate agents work for the property owner, not potential tenants or buyers. That said, estate agents want to make a deal for their client as quickly as possible and are governed by the Estate Agent Act of 1979, not to mention the professional guidelines of organisations such as The National Association of Estate Agents, so accommodation seekers should rest easy that there can be recourse for dodgy deals that do occur. When using estate agents for property transactions:
Inquire about the agent's professional qualifications and membership to any professional organisations. This is especially useful if you are unsatisfied with an agent's service and can contact these organisations with complaints.
Ask about the agency's reputation in the area and their sales/letting records in the past year or two.
Request information on the areas that the agency covers. If you are considering a wide range of locations then be sure to look through private listings or engage the services of another agency to find accommodations further afield.
Do not be afraid to work with smaller agencies. Remember that the busier an estate agency the greater the chances of your case being lost in the shuffle.
Do not sign any documents stating that you will work exclusively with one estate agency. If you feel that you are being pushed into such a scenario then just walk away.
Never pay money up front to an estate agent. Agents will receive a commission when the tenancy or purchase is complete. If your agent asks for money from the start, hunt around for someone else to work with.
There is no right or wrong way to go about seeking accommodation. Using private listings, an estate agent or both is simply a matter of personal preference. The important thing is that you feel comfortable with your decisions and supported in your quest to find the perfect home. If you don't, feel free to change your mind about private listings or particular estate agents as often as you like.
You might also like...