Questionnaire: Will Your Property Attract the Best Tenants?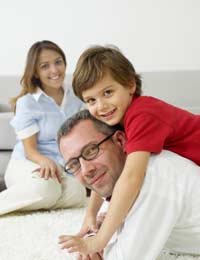 Attracting the best possible tenants is probably the goal of most homeowners. Of course you could get in anyone willing to pay the rent, but a good tenant is worth their weight in gold. A 'good' tenant is one who will pay the rent, take care with your property and furnishings, be a good neighbour to others and keep in contact about repairs and maintenance issues.
To help you determine your property's attractiveness to tenants we have put together this questionnaire. Set aside five minutes, answer "yes" or "no" to the questions below and then match your total to the answers at the end to find out if your property will attract the best tenants.
Will Your Property Attract Good Tenants?
1. Do you offer pictures of your property in your advertisements?
2. Are you willing to meet potential tenants individually to show your property?
3. Does your property have nice furniture and soft furnishings?
4. Do you take care to "stage" the property prior to showing it to potential tenants?
5. Is your property located near public transport and other amenities?
6. Are you honest and clear about your requirements of potential tenants?
7. Are you honest and clear about the state of your property in advertisements?
8. Are you willing to give tenants several contact details in case of an emergency?
9. Is your property in good condition with no obvious repairs needed?
10. Do your property ads target specific tenants (young families, professionals, etc)?
11. Does the exterior of your property look nice in case potential tenants pop by for a look?
12. Is the requested rent appropriate for the property on offer?
What do your results tell you?
So will Your property attract the best tenants?Total up your answers and check against the score descriptions below:
Yes to 1 - 4 Questions
If you answered "yes" to between one and four questions then your property is not likely to attract the best tenants. Some aspects of your property, such as its location, you may not be able to change but what you can change is how you advertise the property. Turn any potential negatives into potential positives, such as a property far from main roads being "quiet" or "secluded". Always tell the truth, but use positive vocabulary as you do so. Also make sure that your property is clean and all appliances in good repair. Tenants pay rent for safe, clean home with all promised appliances in working order and it is your job to deliver this. If you don't feel confident of doing this on your own, engage the help of a letting agent to get on the right track.
Yes to 5 - 8 Questions
If you answered "yes" to between five and eight questions then your property may attract the best tenants. You probably have a basic grasp of how to make your property look and sound nice to potential tenants so invest just a little more time and energy into it and it could move into a class by itself. You may need to invest some money into repairs, new furniture or soft furnishings or into exterior touches like a bit of landscaping or new paint on the building. This investment will likely net you your pick of potential tenants, so your chances of landing a great fit for your property will be maximised.
Yes to 9 or More Questions
If you answered "yes" to nine or more questions then your property is likely to attract the best tenants. You obviously understand how to advertise your property and what tenants should be able to expect from both a rental home and a landlord. Work to turn your "no" answers into "yes" answers and your property - and yourself as a landlord - will be in high demand. Down the road this will be a great benefit as you'll be able to keep your tenants in your property for longer and won't have to worry about unleased months or the stress of advertising and showing your property over and over.
You might also like...
Do you have a standard lodger tenancy agreement available?I only want to rent to one person living in my home during periods when I am away but also all year round.I would like the lodger to take on light household duties i.e. keep the house clean and to do their own cooking and washing. The lodger will have to share the bathroom and kitchen with myself.I am the only person living at the property.I do not have any pets and do not want the lodger to bring pets into the house. Thank you Marguerita
none
- 25-Sep-13 @ 11:20 AM