Get Ready to Let Your Property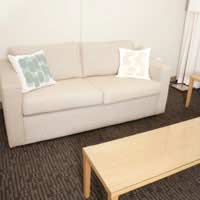 Letting your house out to other tenants can be a very wise financial investment. However there are several aspects of your house that you might take for granted that other people might find hard to deal with. For example, while you might be happy with the fact that the kitchen is painted a shade of bright green, your tenants might not want to look at that every morning.
It truly is a case of the little things making a difference, and these little things might stand in the way of getting tenants into your property and therefore, not making a return on your investment.
Features of a Property
When getting your property ready for decoration, you need to remember that tenants will generally give you more money if they get more in return. Although it might require spending more money now, you will find that great features will equal great tenant demand and great rental rates.
Firstly, you need to give your apartment a fresh look. Use light colours such as white or cream. Keeping the place neutral always works well, and these days wooden floors and beige or monochrome colours are preferred. Keep curtains and blinds of a good quality, and always make sure that the exterior and gardens are well maintained.
Next, you need to look at the fixtures and household appliances you provide. All your appliances should be thoroughly serviced, and manuals should be provided.
In terms of appliances to supply, kitchen and laundry items are the most important. A good property will include a washing machine and dryer, a large fridge/freezer, dishwasher and microwave, as well as good shower and light fittings. Providing plenty of storage space is also important, as is an efficient central heating and hot water system.
Small Touches
In addition to the main points, you need to think about the small touches as well. The overall look should be light, bright and clean. Keep everything neutral so that whether you leave the apartment furnished or unfurnished tenants will easily be able to pick items to fit in with the decor. The cleaner and more neutral you leave the property the more likely you are to appeal to the majority of people and get your property rented out quickly.
Fittings and Other Issues
You should think about safety and practicality as much as the decoration of your property. The gas central heating and gas appliances need to be checked by a Corgi engineer, and fully serviced with a safety certificate. You should also make sure that all furnishings are fire retardant and in good order, and that smoke alarms are fitted.
Make sure you also check all electrical wiring and appliances, and give the apartment a thorough clean before people move in. This will leave your property as safe and attractive as it can possibility be.
If you carry out all of these legal requirements as well as making your property look good, then you will be ready to let your property and have a good chance of finding tenants quickly.
You might also like...