Advertising a Property for Sale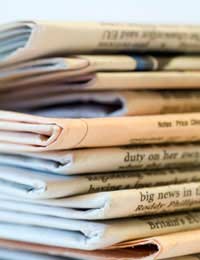 Advertising the property you wish to sell is imperative for attracting the most, and most interested, prospective buyers. Estate agents often take care of property sales advertisements but if you are selling privately then you will need to know how best to advertise your property. As you write your ad be sure to include informative content, create a positive tone and decide on the best placements for maximum exposure.
Content of a Property Sale Advertisement
Advertising a property for sale requires giving readers enough information that they can make an informed decision about whether the property might be suitable for them. This will save you time as well because the more detail you put into an advertisement the less time you will spend answering questions or communicating with parties who are ultimately uninterested later. When you advertise a property be sure to include information on:
Total size of the home and any surrounding property.
Total number of bedrooms and bathrooms in the home.
Main living areas in the home, including home offices and playrooms.
If the home or any room was recently renovated or upgraded.
Any major appliances or furniture being sold with the home.
Asking price for the sale.
Any pre-arranged viewing times.
Contact information if you are willing to correspond privately with interested parties.
Tone of a Property Sale Advertisement
When you write an advertisement for a property sale you want to inspire as much enthusiasm as possible in those who read it. This may be hard if you are limited to a small add, but even selecting positive vocabulary can help. Rather than describing a room as small, call it "cosy". Instead of mentioning that the garden is oddly shaped, refer to it as "unique". Finding words which inspire a positive emotion will be much more likely to capture readers' attention, particularly if you make the property sound like a bargain for the price you are asking. Also, don't just provide a mobile number or email address, encourage readers to "get in touch soon", "ring now" or "act fast". It will never hurt to create a sense of urgency, but be sure that you only encourage readers to take actions that you are interested in responding to.
Placement of a Property Sale Advertisement
When it comes time to place your advertisement think about potential local, regional and even national outlets. Contact newspapers and magazines to find out about property sales sections, think about posting notices on community boards and in local businesses if you feel this might be an acceptable avenue to explore. Also make use of online property sales sites and directories which will allow you to reach a worldwide audience. Don't forget about the power of word of mouth advertising as well. Let all of your friends and relatives know that you are selling your home privately and supply them with the appropriate information to pass along if they can think of potentially suitable and interested parties. If you feel comfortable accessing your business networks for this purpose then that might be another outlet to explore as well.
When you want to sell a property advertising it properly is essential to reaching the most number of potential buyers. Once you have informative content and a positive tone to your ad you can place it in any number of outlets for the best effect.
You might also like...
@eve. There's nothing that can preventing you from choosing who you sell your property to.
AccommodationSeek
- 22-Jan-15 @ 1:56 PM
Is it possible to block a specific potential buyer for a property I am thinking of selling?After a long running, personal dispute it is imperative that he cannot ever have access. Is this possible to arrange?
Eve
- 20-Jan-15 @ 4:09 PM