Asking Potential Tenants for a Guarantor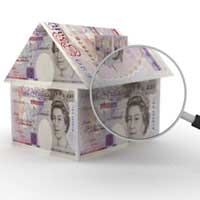 As a landlord you might find a seemingly ideal tenant, until you take a look at his or her credit history or current employment status. Rather than letting this charming prospect go and starting all over with a tenant search, you might ask this person to secure a guarantor who can take on some of the legal responsibilities of paying rent should it be necessary. If you do need to ask a potential tenant for a guarantor, explain what a guarantor is and why this is necessary, discuss who would make a good guarantor, negotiate the guarantee and decide if you could accept any other arrangement should a guarantor not be found.
Define A Guarantor
A guarantor is just an individual who agrees to take on the legal responsibility of the financial aspects of a tenancy should the tenant be unable to or otherwise stop. Usually these aspects including paying the rent and for any damages that have been assessed as the tenant's fault. Guarantors will either sign a tenancy agreement before a tenant or will sign a separate guarantee to the landlord.
Why A Guarantor Is Necessary
Younger tenants, particularly students or those who are just embarking on full time employment, will likely understand that their lack of employment or credit history makes them a bit of a financial risk for a landlord. After all, they have no real history or references which could make the landlord more confident about taking them on as tenants. Older tenants, however, may be surprised at this request. When you ask for a guarantor, explain why you feel one is necessary including:
Questionable credit history.
Past bankruptcy.
No references.
No employment or proof of employment.
No paycheck verification to ensure that the tenant can afford the rent.
Lack of bank account or proof of bank account.
Appearance in delinquent tenant database.
Past debt, default, rent arrears and/or repossession.
Who Would Make A Good Guarantor
For tenants who have never used a guarantor before, it could be worth your while to discuss with them the kind of guarantor you would prefer. This should help save time and energy in the guarantor search so that the tenancy can begin more quickly. Explain to potential tenants that guarantors tend to:
Be parents, siblings or other close relatives.
Have full time employment.
Be able to pass the same credit checks carried out on the tenant.
Live in the United Kingdom.
Be home owners.
Able to enter into legal agreements with the tenant and landlord.
The Guarantee
The guarantee is the legal document which the guarantor must sign with the landlord in order to assume financial responsibility for a tenant. Sometimes these guarantees are actually Deeds of Agreement or Deeds of Indemnity. In addition to formally naming the guarantor, tenant and landlord this guarantee should clearly state that:
The guarantor is acting for the named tenant.
The guarantor will not pay for situations in which the tenant was not at fault.
The length of the tenancy, and guarantee.
The guarantee shall cease if the tenancy is terminated.
Alternative Arrangements
If a guarantor can not be found but you would still like to offer a tenancy to an individual you may be able to offer alternative arrangements to protect yourself. Asking for a greater deposit or several weeks/months rent in advance could help allow you to feel more confident about a particular tenant. Taking on the tenant with other tenants who agree, or provide guarantors who agree, to cover the cost of the entire rent and not just their shares might also allow a tenant a chance at a particular residence with no extra risk to you.
Asking a potential tenant for a guarantor is an easy way to protect yourself as the landlord. If you do make this request, be sure to explain what a guarantor is, why a guarantor is necessary, who might make a good guarantor and items you would like in the guarantee. Should a guarantor not be found you might also be able to offer alternative arrangements to better protect yourself and your property.
You might also like...