Getting Settled in Rented Accommodation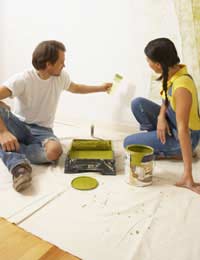 Many people view rented accommodations as short term solutions to their housing needs. Indeed, most Britons believe that they will own their own homes one day, so rented accommodation will just hold them over until they can afford something else. While this may be true, this negative attitude often leaves renters unsettled and unable to make their rented accommodations feel like true homes. If you are renting an accommodation, or will be in the near future, remember that home is where the heart is so settling into rented accommodation is a requirement for settling into your life.
Dream up a Design Scheme
Many renters never feel at home in their rented accommodation because they forget to decorate. Dreaming up a design scheme, even something as basic as a single colour to carry throughout the rooms, can go a long way towards making you feel settled and your accommodation feel coherent. A design scheme needn't be intricate, but take into account:
The colours of your walls and ceilings, or if you would like to put up wallpaper and a border instead. Don't forget to ask your landlord's permission before changing anything.
The floors. Can you use rugs or throws to cover undesirable carpet? Can you clean and shine natural hardwood floors? Just don't rip out any carpet without your landlord's permission and expect that whatever you replace it with may need to stay even when you leave.

Your wall hangings. Some landlords may not appreciate you filling their walls with holes, but few will begrudge tasteful framed prints or other wall hangings. When you have your landlord's permission, hang something that will make you smile. Alternately, contemplate hanging mirrors to make your rooms seem bigger and brighter.
Curtains and blinds. No matter how great the view from your windows, you'll want privacy when it gets dark or a little extra protection from draughts. Use curtains and blinds to provide privacy and play up a colour or pattern in your design scheme.
Invest in Nice Things
Much like lacking a design scheme, another important means of settling in that renters often forget is to invest in nice things. Many renters opt for cheap and cheerful, thinking that they will invest in good quality items when they own their own home, but this mindset can work against you ever feeling settled in. Don't deny yourself nice things while you are in rented accommodation. Instead:
Purchase lovely dishes and utensils that won't embarrass you when company comes to call.
Don't shy away from knickknacks or other accessories that make you smile. If they are truly worthwhile you will be able to find a place for them regardless of where you are living.
Buy furniture when you need it. If your rented accommodation lacks a bookshelf but you are a bibliophile, take care of your books by purchasing the nicest bookshelf that you can afford. When your treasured possessions look at home you will feel at home too.
Make sure that you have light when needed. Floor lamps, desk lamps, fairy lights and new bulbs for the overheads will all shed some light on your situation and help you feel safe and secure.
Entertain Others at Home
Once you have your rented accommodation looking nice and inviting, let others see it! A house really becomes a home when you make memories there, so give yourself the chance to do so. Invite others over for:
Friday night dinners
Saturday afternoon sports matches
Holiday meals
Cocktail parties
Book club evenings
Committee meetings
Craft club dates
Impromptu take away evenings
Settling into rented accommodation may take a while, but the more that you commit to your life in this area the more it will start to feel like home. You never know, when it comes time for you to leave, you might just be heartbroken at the thought of abandoning your nice home!
You might also like...
Do you have a listing of online advertisers for registering my property with for persons who require temporary accommodation while working in my area.
onka2nd
- 9-Jul-15 @ 2:17 AM