Buying a House With Friends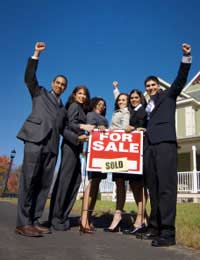 With the cost of property seemingly rising every day, it's no wonder that some savvy singles decide to band together and purchase a home.
Unfortunately, buying a home with friends is not as straight-forward as it may seem. In addition to deciding on wall colours, friends who buy a home together must anticipate what will happen if one party wants to move out, buy out the other party or even if one party dies.
Though such considerations should not necessarily stop friends from buying a home together, they should make everyone involved pause to consider what the advantages as well as the disadvantages are when buying a home with friends.
Advantages of Buying a Home with Friends
Pooling your money with friends in order to purchase a property might be a very smart move. Common advantages of buying a home with friends include:
All parties can move out of their parents' homes and rental properties and begin to build up equity
Pooling resources will help get everyone on the property ladder, even those who might not have been able to afford it on their own
Pooling resources may even help everyone move into areas they could not have imagined with their own savings
Deposits, fees, utility charges and mortgage repayments can be divided up
Disadvantages of Buying a Home with Friends
Of course there are also disadvantages to buying a home with friends. Very often these partners find out that:
When one party wants to move out, the house must be sold because the other(s) can't afford it anymore
Parties with romantic partners may want to buy out the single parties and set up house with their new loves
If one party were to die suddenly, the remaining parties would be unable to afford the house
Parties disagree on things such as decorating schemes, repairs and renovations and insurance coverage for the house and its inhabitants
Consider the Home Carefully
If, after weighing up the advantages and disadvantages of buying a home, you decide to take the plunge with friends, consider the type of home you buy very carefully. As it will be likely that this home may go on the market in just a few years if your lives change dramatically, you will want to invest in buying a home that could sell quickly if need be. Discuss your requirements with estate agents, but particularly be on the lookout for:
Flats rather than houses
Homes that have distinct bedrooms and perhaps even bathrooms
Homes that have a generous sized kitchen and living area (as they will be shared)
Homes that will not require significant repairs – in time or cost
Don't Forget the Legalities
Friends teaming up to buy property has become much more common these days, so finding a mortgage lender to agree to give a loan to two or more partners will not be impossible but it may take a little searching. In addition to sorting out your deposits and mortgage paperwork, be sure to draw up a legal agreement about your investment and take out the proper home and life insurances to cover all parties in the event that something tragic happens.
Buying a home with friends is not an arrangement that will suit everyone, but there is no reason that it can not suit you if you cover all of your bases and see to the proper paperwork and insurance. Just be sure to pick the right friends and remember, even the best of friends can be bad flatmates so consider living together for a while before you buy.
You might also like...
Has anyone ever bought with a friend, if so how did it turn out as i'm thinking of doing this but a lot of people are saying no
hi2u_uk
- 26-Mar-13 @ 12:53 AM