Choosing The Right Kind Flatmate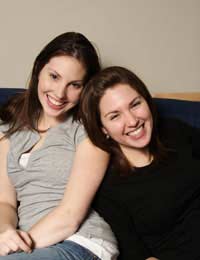 Perhaps even more important than choosing the right rental property is choosing the right flat mate to live with. House sharing and flat sharing can be a lot of fun but choosing a flat mate or house mate is difficult and getting it wrong can be a nightmare. Whether you choose to live with friends, family, a loved one or strangers is up to you, and totally depends on your situation. However, if you are careful and take your time finding a flat mate then you won't go too far wrong. If you don't want your house sharing experience to end up like a bad episode of Big Brother, then here are some tips to help you out.
Living on Your Own
If you want to avoid the problem of finding a flat mate altogether, then live on your own. More and more people are choosing to live on their own as the pressures of work and socialising mean they want somewhere they can be alone and relax. However, living alone is not for everyone, and it can get very lonely. Working all day and then coming home to sort out cooking and cleaning and paying the bills can be very stressful and leave you feeling isolated. Also, living alone is going to be more expensive than house sharing, with one bedroom or studio flats likely to set you back 1.5 to 2 times what you would pay for a room in a shared property. Before you decide to live on your own, think hard about whether it's right for you and whether you can really afford it.
Moving in With Friends
Perhaps the most common option, especially for young people, is to move in with friends. With your friends you have some idea about what the other person is like, and if you spend plenty of time together already then it can work out really well. However, being friends with someone and living with them can be very different, and many friendships have been lost once people move in together. If you are going to move in with some of your friends, you need to be honest with one another and know your rights and expectations. For example, if you move in with a friend as a casual arrangement or as a lodger then your rights are very different than if you move into a place together and have a joint or separate tenancy agreement. The key to remember when moving in with friends is to talk to each other beforehand and know your expectations.
Moving in With a Partner
If you are in a serious relationship then you might be thinking about moving in with your partner. Whilst this can be one of the best decisions you make both personally and financially, it can also turn out to be a total nightmare. If you want to move in with your partner then make sure you are both ready for the commitment and that you have some idea about each other's habits and behaviours. Try and stay with each other somewhere for a while before moving in together so as to get a feel for what it will be like. Although breaking up can be hard, getting out of a tenancy agreement once you have split up can be even harder. However, if you are ready for the challenge then moving in with your partner will certainly save you money, as you can share a bedroom and save on property costs.
Finding Someone to Live With
If it's not convenient or viable to live with your friends or partner, then you might want to consider finding strangers for a house share or flat sharing. This can be a daunting prospect, but sometimes living with people you don't already know is easier. Whether you have found a place and want to find house mates or flat mates to live with or are looking to find a room in a house share, you need to be careful about the people you choose to share with. Have at least one meeting with them in a social setting to see if you get on and have similar living habits. Also, if you meet someone you are attracted to, don't move in with them – go out with them instead and live somewhere else. Moving in with people you are attracted to will usually lead to awkward or difficult situations in the future and could cause problems for you and the other people you live with.
Finding the right person or group of people to house share or flat share with is tough, and in many ways is more important than finding the right property. However, if you are honest with the people you are going to live with then things should work out well. Make sure that you all learn to compromise and that everyone is prepared to pay his or her own way and do a share of housework. The key is to respect each other's way of living and to live with people you can really get on with.
You might also like...