Interviewing Potential Housemates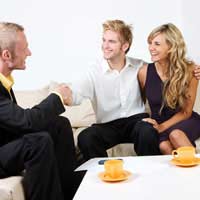 Interviewing potential housemates can be a nerve-wracking experience. On the one hand you are in the enviable position of deciding who you would like to live with next, but on the other hand all of the responsibility of picking someone who will mesh well with your own lifestyle is squarely on your shoulders. To make the right choice you need the right information, so interviewing candidates makes sense. The next time you find yourself interviewing potential housemates, be sure to ask the obvious questions, watch the candidate's body language and follow-up on his or her answers.
Ask the Obvious Questions
When faced with the task of interviewing potential housemates, many people suddenly go blank about what they really want to ask them. To avoid this scenario, think of your most important questions before the interview and write them down. Remember to ask who else the candidate has lived with, how that relationship was, why (s)he left the last situation, if (s)he is employed, if (s)he has references, if (s)he smokes, drinks, does drugs, if (s)he intends to have many guests stay over, what his or her daily schedule is like and when (s)he could move in. You may also want to ask about his or her feelings on cooking, sharing food or household items, cleaning or other chores and activities that tend to come up when two or more people share a house. Listen closely to the candidate's answers and make notes as needed so that you can remember what (s)he said later on when it comes time to make your final decision.
Watch the Candidate's Body Language
Just as important as what the candidate actually says in response to your questions is his or her body language throughout the interview. Candidates who fidget, can not look you in the eye, shift in their chairs a lot, pause before answering questions as if trying to remember a story, sweat, fold their arms, tap their foot or otherwise appear put out about being interviewed may have something to hide. Whether or not this is actually the case, how candidates behave at an interview may be indicative of how they will behave when you are living together. Candidates who are rude, aggressive or otherwise make you feel uncomfortable are probably not the best option as a housemate.
Follow Up On Answers
When an interview is finished it's always a good idea to follow up on the answers that a candidate gave you. Checking references and making sure that what (s)he said about his or her past living arrangement is always a good idea to avoid any nasty surprises later. During this reference check feel free to ask the person more about the candidate to get the most complete picture possible. If you feel it necessary, you might also want to contact the candidate's employer just to make sure that (s)he is truly employed and will be able to afford to live with you.
Interviewing potential housemates is an important part of choosing who you would like to live with. Only by speaking with the candidates and watching their body language can you get a good idea of what (s)he would be like to live with. Following up on answers and checking in with references is also a good idea for confirming that what the candidate told you was correct.
You might also like...