How To Advertise For A Flatmate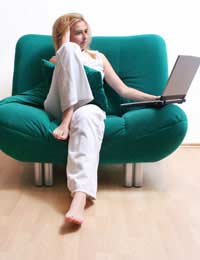 Finding yourself without a flatmate can be a stressful time. Not only do you shoulder the entire responsibility of paying for rent and utilities, but you also have to keep your flat looking nice and begin the process of finding a new flatmate all at the same time. The good news is that by advertising efficiently for a roommate you can take some of this stress away and help yourself to find the best possible fit. Who knows, you might even end up with a new friend from the bargain!
Writing Your Flatmate Ad
Advertising for a flatmate is only efficient if you can narrow down what you are looking for in a candidate. Before you write your ad think about variables such as gender, age, professional status, smoker or non-smoker, traditional hours or non-traditional hours, solitary or social and of course how many flatmates you desire or need. Putting all of this information in your ad will help weed out unsuitable candidates before they even apply. Also make sure to state the rent and anything else that will cost a candidate (for example, utilities or management fees)in your ad and the date on which a new roommate could move in. Include the contact mobile number or email to which candidates can reply, and if you would like to list your name don't include a surname. If there will be a mass viewing time make this clear in your ad.
Posting Your Flatmate Ad
There are a variety of outlets that accept ads for roommates around the UK, but remember that where you post an ad will influence who sees it and therefore may apply. If you want only local people to see your ad then confining it to nearby notice boards and local papers is a good idea. If you want to cast the widest net possible then placing it on an Internet board such as Gumtree or Craigslist or in regional or national papers would be better. Similarly, if you are looking for flatmates with a healthy lifestyle then posting a notice at a gym might be a good idea, whereas if you are looking for individuals with a more quiet lifestyle then posting your ad at the local library might be a good move. Of course no matter where you post your ad there can be no guarantee that you will get only your dream candidates, but a little forethought as to where you advertise can help towards this end.
Managing Inquiries
Once you've got a well written ad posted at the most noticeable venues you'll no doubt be inundated with inquiries from potential flatmates. How you manage these calls or emails is up to you, but remember that ignoring them is not the best answer. If you are communicating via email you may be able to set up an automatic response answer frequently asked questions, but candidates may not appreciate this response if it does not deal with their specific concerns about the flat. By taking just an hour a night to go back over each day's communications and dealing with them individually you stand the best chance of keeping on top of all inquiries and staying organised enough to find your best candidates for roommates.
Advertising for a flatmate may not be the easiest task in the world, but it is vital to helping you find the best match for your flat in the least amount of time. By writing a detailed ad, posting it in appropriate venues and staying on top of your inquiries you'll likely have more candidates than you can handle.
You might also like...