Safety Issues in Homes for the Disabled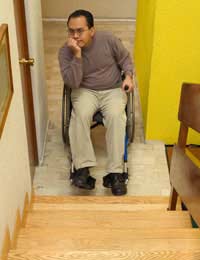 Everyone likes to feel safe and secure in their own homes, not to mention in the homes of family and friends, but for disabled people this security can be elusive. Particularly high risk areas in any home can be stairs from which someone might slip or fall, bathrooms in which water presents a hazard, and kitchens in which heat and sharp utensils can be dangerous. Combating these threats, and making sure that homes are also accessible for the disabled, will help any family overcome safety issues in their home, regardless of the ability levels of their members.
Safety Proofing the Stairs
Safety proofing the stairs is an important part of making homes safe for disabled people. While the stairs themselves may present problems for people using wheelchairs or crutches who must get up them, they are just as dangerous to these people when they are at the top and unsteady at that height. In fact, some studies show that up to 2/3 of home deaths are caused by falls, so making sure that the stairs are safe should be a first step in any home. Be sure to:
Move throw rugs or runners away from stairs so there is less of a chance of anyone tripping
Avoid waxing wood stairs or railings so that there is less of a chance of anyone slipping
Install proper lighting overhead so that anyone using the stairs can see what they are doing
Frequently purge stairs of any clutter that accumulates and becomes a safety hazard
Place coloured, non-skid tape on the end of each stair if anyone in the home has poor vision or depth perception
Safety Proofing the Bathroom
The bathroom can become a steamy, slippery mess after a bath or shower, meaning that the chance of accidents in this room increases greatly at these times. For people manoeuvring between amenities and a wheelchair, or trying to move around on crutches, these dangers increase even more. Any bathroom can easily be safety proofed by:
Installing grab bars for people to hold onto as needed
Providing a bath bar for bathers to grip as needed
Using a hand-held rather than mounted shower head, providing bathers with more control over the flow and temperature of their water
Putting sticky or non-skid mats in the bath or shower floor
Installing fans to help wick away steam
Safety Proofing the Kitchen
The kitchen, often called the heart of the home, can also present multiple challenges to anyone's (or everyone's) safety. Heat sources, sharp equipment and awkwardly stored items can all add up to potential threats. Make sure that your kitchen is safe for everyone by:
Keeping all heat sources turned off, or covered/closed when being used
Storing all dishes and utensils in neat stacks and at an appropriate level so no one must tug or pull them down
Pushing all equipment to the back of countertops when not in use and unplugging them
Making sure that there is a smoke alarm with working batteries in the room
Providing a fire extinguisher and blanket within easy reach for everyone
Ensuring that there is a working carbon monoxide detector in the kitchen
Removing clutter before it builds on the floor
Keeping floors clean and bare, instead of covered with throws or rugs that could cause trips or slips
Creating an Accessible Home
In addition to safety proofing a home, making sure that it is accessible to the disabled is the only way to truly lower all risks to the minimum levels possible. In general, try to see that your home provides:
A ramp for entry and exit from at least one door
Doorways wide enough to accommodate a wheelchair or two people at a time (in case a carer or assistant is needed for mobility)
Grab bars in every room that will be used by someone with a disability or low mobility
Furniture and counters at lower levels as needed
Bathrooms large enough to accommodate a wheelchair or two people at a time
A stair-lift, if needed
A bath or shower chair, if needed
Safety proofing danger spots in the home and making sure that your home is accessible to everyone are important parts of creating a safe haven for people of all ability levels. Safety issues in the homes of the disabled may be present, but they are certainly not insurmountable nor should they be considered as such.
You might also like...