Choosing a Mortgage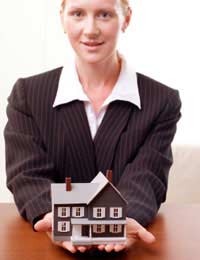 For most people, a mortgage will be the biggest debt that they are ever willing to take on. An average mortgage can be several hundred thousand pounds, so before you agree to this monster loan you'd better be sure that you are comfortable with the terms. Choosing a mortgage shouldn't be a snap decision. Instead, shop around for a mortgage lender that you trust and a deal that you feel suits your finances, lifestyle and dreams.
Decide On A Mortgage Amount
One thing you need to know before you start shopping for a mortgage is how much you feel comfortable borrowing. Usually mortgage lenders will offer 2 to 2.5 times your income (and slightly less for a combined household income) in a mortgage package, so gather together proof of your income before heading out for appointments. Also take a look at your savings, assets and other debts to get a real picture of your financial situation. Think hard about your future and how it will affect your finances as well. Ask yourself if you will need cash for things such as:
Medical expenses
College or university tuition and fees
Funding a small business or entrepreneurial venture
Personal debts or other loan repayments
Significant purchases such as a new car, furniture or household equipment
Decide On A Length Of Time For Your Mortgage
It can be hard to stomach signing your name to a ten, twenty or even thirty year loan but those are all standard lengths of time for a mortgage. Obviously if you choose a shorter length of time you will be free and clear of your debts more quickly, but choosing a longer length of time on the loan will generally translate into lower monthly repayments. Figure out how much you can afford to pay each month, and how comfortable you feel with loan lengths, before deciding on a mortgage.
Decide On A Level Of Mortgage Risk
There are two basic types of mortgages - fixed rate and variable rate. Fixed rate mortgages will lock you in at an interest rate for the length of your loan so you will always know your monthly repayments. Variable rate mortgages will fluctuate depending on interest rates so sometimes you may end up with lower rates and therefore lower monthly repayments, and other times you may end up with higher rates and therefore higher monthly repayments. Of course, with several thousand types of mortgage packages available today from mortgage lenders there are also mortgages that will offer terms of all types, including a combination of these two extremes. Decide on the level of risk that you are willing to undertake in relation to your mortgage before agreeing to anything.
Decide On A Mortgage Lender
Once you have decided the amount of money you would like to borrow, the length of time you are comfortable taking for your mortgage and the level of risk you feel is appropriate for your loan, the next step is to find a mortgage lender with whom you feel comfortable. Be aware that just as you are sizing up mortgage lenders, so too are they sizing you up. If you don't feel comfortable with a lender, don't agree to work with them. Remember, a mortgage lender should be willing to work with you for whatever terms you feel comfortable with, not force you into something that you are not.
Choosing a mortgage can be one of life's most stressful experiences. Take it slowly, make sure that you are realistic and comfortable with each step, and soon you'll be shopping for the house of your dreams with a mortgage to match.
You might also like...