Affording a Mortgage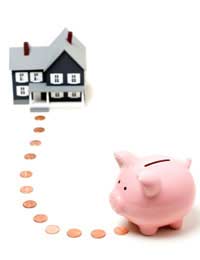 When people discuss saving for a mortgage what they usually mean is saving up for a deposit that will then allow them to take out a mortgage as a loan for the rest of the cost of the home that they want to purchase. Though there are some 100% mortgages available in which a deposit is not necessary, most potential homeowners attempt to save up between 10% and 20% of the purchase price of their house as a down payment. To do this, they follow the simple formula of spending less than they earn.
Making a Savings Goal
The first step to savings success is to decide upon your ultimate savings goal. Some people make this decision based on a little research into the price of properties they would like to buy and then figuring out what 10% or 20% of this price works out to be. Other people start with their current earning power and decide how much they can realistically set aside for each month, and how long they think they can wait to investigate a mortgage. If you are considering purchasing a property with a joint owner then you'll need to also work out how much of the deposit each of you will be responsible for. Adding in extra money to have in reserve for "hidden" fees such as conveyancing costs or survey fees is also a good idea.
Earn More or Spend Less
There are truly only two options when it comes to saving money: earn more or spend less. Many people are loathe to take on a second job or do some freelance work in order to supplement their regular income which means then that spending less is the most commonly selected options. In order to work out how much you spend each month now, commit to a month of writing down each and every time you spend money. At the end of the month you'll be able to total up how much money you spent (and where you spent it, and on what) and it should become clear where you can cut back in order to add more to your savings.
Investigate Investments
Once you have a little lump sum built up, even if it's nowhere near the ultimate goal you are working towards, you might want to consider investing some of this money in the hopes of making even more. Though there is no guarantee that you will make money, and indeed you might even lose some, there are a variety of short term investment options such as Certificates of Deposit (CDs) or short term bonds that might work well for your situation. Discussing these options with a financial professional might be a good idea to make sure that you know all of your options, understand the potential benefits and risks, and make the most informed decisions possible. Most banks have financial advisors that you can access on demand, or there is always the option of hiring your own personal advisor. However, spending money to make money is often more of a long-term plan so make sure that you know when you need your deposit before committing any of it to a side project. Sharing this information with an investment professional will also ensure that you are all on the same page. Good luck!
You might also like...