Different Types of Commercial Property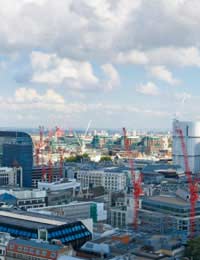 Commercial property is one of the best performing asset types in terms of property investment and so more and more people are looking at investing in commercial property types. Although offices are what most people think of when commercial property is mentioned, there are in fact many different commercial property types. Whether you own a business and are looking for commercial property rental or are thinking about investment, it pays to know about the different types of commercial property on the market and their specific features.
Office Property
Office property is perhaps the most common of all commercial property, and is definitely the first type of property that springs to mind when the term commercial property is mentioned. Offices can range from small one or two room facilities to huge office buildings and business parks where large corporations are run. Office property is the most common commercial property for investors, as offices can be used for a variety of business types and if in a good location at a good price you will always find tenants or buyers for the property. If you are new to commercial property investment or are looking for a base for your business then office property is the place to start.
Retail Property
From Tesco to Gucci, all shops and supermarkets are classed under the retail property sector of commercial property. If you want to open up a shop then retail property is where you need to look. Generally, you can buy or rent any retail unit and use it for any retail purpose, although you should check with your local authority or council before doing so. Retail property has a good return on investment, with property prices rising by 5 to 8% compared to around 4% for the average gilts and shares. Therefore, retail property represents a good opportunity to make a profit on your investment. However, if you are renting out retail property there is an increasing risk of tenant default. Even some larger high-street chains are defaulting on property because of losing business in a highly competitive market. If you are looking at retail property, then make sure the location and layout are going to be right for your needs.
Industrial Property
Industrial property covers commercial properties such as factories and warehouses. These properties are generally cheaper per square metre than other types of commercial property. However, if you don't need to rent industrial property for your own needs it is best to avoid industrial property as an investment tool. To be successful in industrial property letting or investment you need to have detailed knowledge of the factory or warehouse type and its specific options for usage. There are many factories and warehouses sitting empty around the country, which shows how hard it can be to invest in this sector. However, this makes industrial property cheaper to rent, and is a good option for artists or designers who need a large amount of cheap space for their work.
Leisure Property
Leisure property includes restaurants, pubs, bars and cinemas amongst others, and is the hardest type of commercial property to finance. This is because the risks associated with setting up a restaurant or bar are large, and many companies go out of business very quickly. If you are looking to rent a leisure property, then make sure the location is perfect for what you want. Also, make sure you have a detailed business plan to show mortgage companies before attempting to buy a property. Investment in leisure property can be profitable, but as with retail property there is an increasing risk of tenant default.
Working from Home
Before you decide to rent or buy commercial property, think about the possibility of running your business from home. Whilst this is obviously not possible for many businesses, it can be easy for others. For instance, instead of renting a small office space you could convert a room in your home to act as a base of operations. You generally don't need planning permission to use your home for office purposes, and it might be a cheaper alternative to commercial property.
Deciding which type of commercial property is right for your business needs can be difficult. However, as long as you consider each type of property and know the benefits and risks involved you will be able to make an informed decision that is right for your commercial property needs.
You might also like...