Selecting a Serviced Office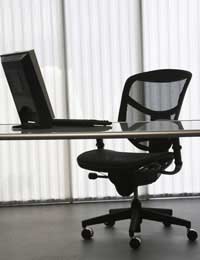 A serviced office is one in which all aspects of management are carried out by a single facilities management company rather than by the companies or organisations which are housed in the building. Sometimes also known as "executive suites" or "business centres", these offices generally come fully furnished and equipped, provide cleaning and maintenance services and can accommodate many different rental periods for different clients. When selecting a serviced office, decide on a location, look into items and services provided with the space, research your new "neighbours" and know both your budget and your office needs.
Decide On A Location
A serviced office can be a great option for a business, but not if it's hard to get to or so far away from necessary locations that you wind up wasting time and money in your commutes. As you look for a location for a serviced office, consider:
Is it in a known business district or area?
Are there local transport options for clients and employees?
Is it near locations you'll need to visit regularly?
Is the area safe for after hours or weekend work?
Is the location known for a particular kind of industry?
Does the location have all necessary utilities, such as broadband Internet?
Are there business related amenities in the area?
Look Into Items and Services Provided
Executive suites pride themselves on being "full service" for their renters, but what exactly is on offer will differ in each location. Before selecting a serviced office, find out if a particular building offers:
Office furniture.
Office equipment, including computers and telephones.
A private or shared lounge for employees.
A private or shared area for meetings and presentations.
Any type of reception service and/or area.
A cleaning service, and how often.
Any catering services on-site.
Administrative support, including IT.
Telephone and IT infrastructure.
Security personnel.
Insurance policies.
Flexible rental periods, including the notice period prior to vacating.
Research Your "New Neighbours"
Even the most luxurious business centre is only as good as its tenants, so research your potential "new neighbours" prior to entering any type of agreement. Look around the building, ask the management company or speak to the tenant directly to find out:
What industry do they work in?
How many employees do they have?
What are their typical office hours?
How often do they use the shared services?
Where is each tenant physically located in the building?
Are any tenants leaving within the next six months or year?
Are any existing tenants thinking of expanding within the building?
Know Your Budget and Needs
Of course your budget will greatly guide your selection of a serviced office, but don't forget that what you actually need from your new location is important too. Just because a particular space offers all the bells and whistles doesn't mean you need them all. If you like a place but can't afford the rent and associated fees, ask about negotiating a lower rent in exchange for giving up a few items or services. You'll never know if this is a possibility until you ask.
Selecting a serviced office can be great fun but will require a good amount of prior planning. Decide where you want the office to be, look into what items and services are provided in each office, research potential "new neighbours" already in a particular building and then think about your budget and your actual office needs before making this momentous decision.
You might also like...