Costs and Benefits of Student Accommodation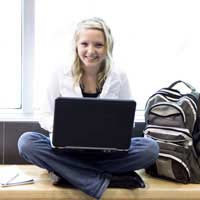 Once you have made the difficult decision of deciding on a particular university you will need to think about student accommodation. Whilst your actual choice of university is very important, once you have made a decision it is just as important to pick the right student accommodation.
Picking the wrong student accommodation can have a negative influence on your university life and work, making it difficult to settle in and get used to your new surroundings. This article aims to give you an insight into the costs and benefits of student accommodation, from your first year of university and beyond.
Making the Choice About Student Accommodation in Your First Year
When you start your first year of university, you will have to make the choice between living at home, living on campus or living off campus. For most students, the option of living at home is not possible or preferred, as you may be far from home or prefer to be independent. Most students decide that Halls of Residence are the right option for their first year of university. This is because you get your independence and freedom whilst still having a range of support facilities available.
On campus accommodation makes student living easier in the first year, as it is likely to be the first time you will have lived away from home. You can be self-sufficient without having to worry about things such as gas bills, electric and council tax, as these will all be taken of and included in your student accommodation price.
You might feel that you want to do everything yourself, but starting university can be stressful and it is best to keep things simple. There will be a lot to learn in a short space of time; the pressure of making new friends, being in new surroundings and learning new courses will leave little time for domestic duties. That is why choosing on campus accommodation is the best bet in your first year.
Help At Hand With Campus Accommodation
In your Halls of Residence you will have a 'hostel representative' to help you out. These representatives are usually second or third year students who can use their own first year experiences to help you come to terms with university life and campus accommodation. The representatives will live in your Halls of Residence and can help you out with any issues you might have about settling in and finding your way around.
Even if you choose to live off campus, these representatives will know friends who have done the same and can give you advice on where to look and what to pay. With this help, you can adjust more quickly to university life than you would be able to if you were not in student accommodation.
Although student accommodation is advised and has many benefits to it, it is worth considering the potential downsides so that you can come to an informed decision about where you are going to live when attending university. The most commonly reported problem with student accommodation is noise. Although you will be asked what sort of student accommodation you would prefer in regards to issues such as noise and smoking, you are unlikely to find the peace and quiet you might enjoy in your own rented apartment.
However, if noise is a problem then your representative can take a look at the problem and try to come to some sort of arrangement with other students. If you are someone who loves their peace and quiet, be prepared for the occasional disturbance –after all student life and university is also about having fun and enjoying yourself.
Conclusion
There are advantages and disadvantages to all types of student accommodation, and where you decide to live really depends upon your individual needs. If you are a confident person who has experience living away from home, then finding private rented accommodation might appeal to you.
However, for those of you who are new to living on your own, on campus student accommodation is the best option in your first year. It may have some disadvantages, but the advantages are many. You will make friends more quickly which will help you to settle into life away from home, and this will make your time at university more fun and productive. Once you feel you have settled in to student life, you can always choose off campus accommodation in your second or third years.
Although it won't always be easy, student accommodation is the best way to get involved in university life and settle in to a new place. You will learn a lot about yourself through the fun times and the bad ones, but you will be better for it. As long as you can afford to take student accommodation, then it is highly recommended to give you the best all-round experience whilst you study.
You might also like...