Asking a Landlord to Review Your Rent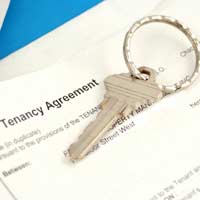 Rental prices fluctuate in every area, so asking a landlord to review your rent may be a good idea to make sure that you are not paying above the odds for your accommodation. In order to ensure that you have a right to rent reviews, include this information in your rental agreement. Research competing properties in your area prior to requesting a review, however, so that you don't end up finding out that your rent should be increased to stay competitive. Be ready to negotiate for a lower rent and don't forget to agree on what will happen to your existing deposit should your rent be lowered as well.
Rent Review Guidelines In Rental Agreements
You and your landlord should agree to when rents will be reviewed prior to your tenancy beginning, and this information should be included in your rental agreement. Generally for fixed-term lets (six months or more), rent will either be set for length of the term (the six month/one year/two year let, etc) or reviewed at regular intervals. Periodic tenancies (rolling/month-to-month) tend to be reviewed at regular intervals. Rental agreements for tenancies with reviews at regular intervals should state:
When the rent will be reviewed (dates or lengths of time).
How the rent review process will be initiated.
How the rent review process will be carried out.
Any external factors which will be used in the rent review process.
What kind of agreement is necessary for a change in rent.
What documents will need to be signed for a change in rent.
Rents for Competitive Properties
As a tenant you will likely only ask for a rent review if you believe your rent is too high. You will probably base this decision on the "market rent" (fair market value for rent) of accommodations similar to your own in your area. "In your area" is debatable, but attempt to look for properties within a mile or two of your own (up to about 3km) and with a similar number of square meters so that you can discuss price per square meter. If you have extra access to amenities such as laundry facilities, gym, pool or reception or security personnel, don't forget to factor this into your own rent. Using an external index such as the Residential Rental Price Index (RRPI) may help you provide more information on average rents as well.
Negotiate for a Lower Rent
It may be that your landlord is open to a lower rate of rent, but the terms of your tenancy will need to be tweaked a little in response. If you are open to negotiation don't hesitate to share your thoughts. You might be able to pay less rent in return for:
Giving up access to something (parking, an external building on the property, etc).
Taking over a service of some sort (e.g., taking care of the garden).
Paying rent in a different manner (by direct deposit, in cash, etc).
Changing the type of rental (e.g., giving back furniture to become an unfurnished rental).
Pitching in on a project (helping to paint a house, accommodating a renovation, etc.)
Existing Rent Deposits
If you do succeed in lowering your rent after a rent review, make sure you know what will happen to the existing deposit your landlord is holding. Will you have a portion of it returned to you to reflect your lower rent? Will your landlord maintain control of the amount you originally gave him or her? Make sure you understand the amount at stake and who has control over it before considering the case closed.
When a tenant asks for a rent review from a landlord it is usually because (s)he believes (s)he is paying too much rent for a given accommodation. If you are interested in regular rent reviews from your landlord make sure you detail this in your rental agreement, research competitive properties and market rent in your area, be ready to negotiate for a lower rent and decide what you would like to happen to your existing rent deposit before entering into any formal agreements.
You might also like...