Updating Properties Between Tenants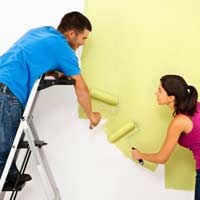 While it would be great if your rental property never sat empty, having some time in between tenants can actually be a good thing. This is a great opportunity for updating properties without the hassle of working around someone who is living there. Cosmetic updates, maintenance updates and updating furnishings or appliances in the property are all options for landlords looking to freshen up their properties. If done correctly, updating properties between tenants can maximise your property investment and might even mean that you can up your rental price before putting your property back on the market.
"Cosmetic" Updates
"Cosmetic" updates are easy enough to make and rarely require great investment, so landlords can usually get these updates done quickly and easily. Cleaning all areas, painting or wallpapering rooms, painting trims, changing curtains and blinds, cleaning or replacing carpets or rugs, cleaning gutters, doing a little landscaping, planting flowers or shrubs, painting gates and fences, and even painting exteriors like the sides of the home or the shutters are all cosmetic updates that will make your rental property more appealing. When you're finished, remember to take new pictures for property websites or your adverts, so that prospective tenants will be able to base their opinions of your property on the most up-to-date information.
Maintenance Updates
Maintenance updates may require more time and monetary investment to complete, as well as requiring more space to carry out in the rental property - so these are great updates to get done while a property is empty between tenants. Replacing kitchen appliances, updating bathroom fixtures, exchanging light fixtures, fixing water heaters and radiators, and repairing structural items (stairs, walls, ceilings, etc) are all maintenance updates that landlords should or may have to fix to keep their properties in line with health and safety requirements. These updates can be complex though, so landlords should make sure that they work with experienced tradesmen (with good references) to ensure the highest standard of work.
Updating Existing Items
Updating existing items is another way for landlords to keep their properties current and to have the best chance of attracting tenants willing to pay the rent the landlord prefers. Small electronics that come with the property, from kitchen gadgets to sound systems to televisions, should be in good working order or be replaced. Some landlords may even decide to update these items with newer models (even if they are gently used, such as from the landlord's primary residence) to further attract tenants. Mattresses and other well-used furniture may be replaced and light bulbs and even drafty windows can be replaced with energy-saving alternatives. Installing, testing or updating items like fire alarms, security systems and carbon monoxide detectors is also a good idea for landlords when their properties are empty between tenants.
Updating properties between tenants is a good idea for landlords who want to make the most of their investments and attract tenants willing to pay slightly higher rents for fresh, clean and well-appointed rental homes. Cosmetic updates, maintenance updates and updating existing items are all options for landlords interested in freshening up their properties in between tenants.
You might also like...