Renting as a Professional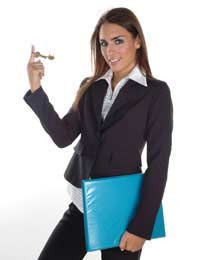 Work can take us places that we don't expect and sometimes this means travelling long distances for our work. It may even mean working in a different part of the country, forcing you to start thinking about professional renting. This is where you rent a property for the purposes of living whilst at work. There are many reasons why this situation might occur, and also a variety of things you need to look out for if you are thinking of renting as a professional. If you have been sent out on a work assignment and need to rent property, then here are some of the options open to you and what you should look out for in a home for work.
Long-Term Secondment
One reason why you might be renting for work is if you have been sent on a long-term secondment to a client either abroad or in another area of the country. If you need to be there for a number of months then it might be more economical and practical to rent a place than to stay in a hotel. The novelty of living in a hotel will wear off very quickly and you may miss home comforts like being able to cook meals and having more space. Instead, look for a short-term rental property where you can relax and feel more at home.
Not Wanting a Mortgage
Starting a new job and moving home can be stressful, and if you are just beginning your career then a mortgage might be more than you can cope with. Instead, renting as a professional is a more viable option. You won't have the financial commitments of a mortgage and it will be easier to move somewhere else if your work situation changes. Wait until you are settled in your career before taking out a mortgage, otherwise your inflexibility to move quickly could cost you career opportunities.
Weekday Work Home
There is a growing trend amongst professionals to have the best of both quiet country living and a high-flying city career. With this in mind, many people are renting small city properties to live in during the working week before returning to their country home at weekends. This saves them time and money on commuting each day, and allows them to focus on work during the week and then relax outside of the city during their time off. If you are looking for such a property, then there are a number of companies that specialise in finding weekday work property for professionals. Try and find something that is convenient for travel to work and also has easy access to transport links for your weekend travelling. Most properties like this are small one-bedroom or studio flats, where you sacrifice space for a prime location. Find something that is comfortable but affordable – the more money you save on this property then the more you can spend on your country home.
Will the Company Pay?
Another factor to take into consideration when renting as a professional is whether or not your company will help you cover the costs of your property rental. If you are simply relocating for a job, then the company might cover the costs of moving but nothing else. However, if you're being sent on secondment from your regular place of work then your company might well help cover the costs of accommodation or even arrange an appropriate rental property for you. If you have to find a rental property for work purposes, then ask your company whether they can give you an allowance for this or help you find a place to stay. In general, if you go on medium to long-term secondment to another part of the country or abroad then your company should help you with the costs.
Although being away from home can be tough, professional renting can make things a little easier. It can reduce the stress of commuting each day, or make you feel more at home than simply staying in a hotel would. Moving around for work is more common than ever, so finding the right home for work is extremely important. As long as you think carefully about your needs and know how much you can afford to spend, then you should find the right professional property for your needs.
You might also like...