Answering Flatmate Ads Abroad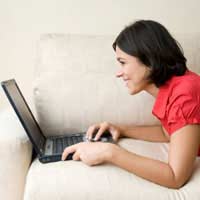 Answering flatmate ads abroad requires much the same common sense as it does in the United Kingdom, but there are some issues that you may not have needed to think about before. Living overseas brings a number of new topics into a flatmate's relationship, so thinking about things like which languages are spoken by flatmates, the legal status of flatmates and the safety and security of flatmates may all be necessary. These topics can be awkward, but asking them with a minimum of fuss and in all sincerity should help everyone involved feel comfortable about these things.
Answering Overseas Flatmate Ads
Answering flatmate ads while overseas, or before heading overseas, is a lot like answering them at home. You'll want to give a potential flatmate information on who you are, where you are now and when you'd like to move in. You'll probably also save time if you let him or her know your budget and anything unique about your living situation, such as if you have a child or pet with you. In the interest of personal safety it is usually best to answer ads with only an email address or mobile phone number so that you do not have to give total strangers any other personal details.
Flatmates Abroad and Languages
One complication to answering flatmate ads abroad may be language difficulties. If you are not fluent in the language of your host country, or the language of any existing flatmates, then you might not be able to fully understand the terms and conditions of living in a specific situation. If you do not fully understand these things then you should not sign any kind of rental agreement until you are comfortable with them. This may require bringing documents to a translator or having a friend informally translate during any interviews. It may also be that you do not want to live with someone you can not communicate well with, so being upfront about your language abilities is imperative when answering flatmate ads abroad.
Flatmates Abroad and Legal Status
If you are living, or thinking of living, abroad then you understand the legal complexities of such situation. Before answering ads for flatmates while overseas you should be able to explain your own legal status to potential flatmates and perfect a way of enquiry about theirs as well. Asking something as simple as "So are you an Egyptian citizen?" or "Are you studying abroad in Beijing like I am?" can be a great way to elicit more information about a potential flatmates legal status. Though his or her status may ultimately have no effect on your life, it might if they are suddenly deported or otherwise unable to live with you and pay their share of the rent.
Safety and Security of Flatmates Overseas
Some areas of the world are less safe than others, so finding out about preferred means of safety and security is a good idea when answering flatmate ads abroad. For example, in some communities the sight of security guards is just part and parcel of living overseas. But are you required to pay anything towards their wages? Do you need to let them into your home if they ask? What exactly is their function in the community? These are all legitimate questions that might come up when you find yourself facing safety and security situations different to those with which you are experienced. Don't be shy about asking them.
Answering flatmate ads abroad is a lot like answering ads in the United Kingdom but there might be a few extra topics to think about. Language issues, legal status of all flatmates and safety and security concerns in the shared home are all subjects that might come up when answering flatmate ads abroad.
You might also like...