Living in Expatriate Communities Abroad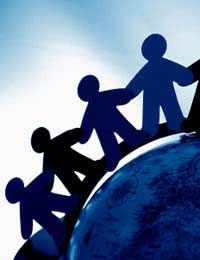 There are many aspects of expatriate life that you should consider before venturing abroad. Living abroad, whether for a short job assignment, to study overseas, in retirement or for any other reason, often means living in an expatriate community. These overseas communities may have rhythms and relationships all their own so you should consider if you feel suited to expatriate life before taking the decision of living overseas.
Investigating working, education and socialising within a specific expatriate community, as well as how expats seem to make their homes away from home, can all provide rich information to help you make your decision.
Working within Expatriate Communities
Expatriate communities can be large or small, but often there are certain employers that bring together the majority of expats within. Working within such overseas communities then can mean seeing your boss, your co-workers or those you manage in many settings other than the office. It also means that you may become known as a family associated with a specific employer, and that such associations could have impacts on your non-working lives. While you will likely have an orientation about working abroad before you move, you will also want to investigate how working abroad in an expatriate community may affect your options for a home, socialising, the cost of living, your children's education and more.
Education within Expatriate Communities
Living abroad can be an education in itself, but if you have children to bring to an expatriate community then you will want to investigate their education options.
Are there local schools that would accept them? Will your children be familiar with the language and course content? Are there international schools available? Are there British schools available? How will living overseas affect your children's options for sitting exams and going to university? Will your children be able to avail of educational "extras" such as sports teams, musical lessons and dramatic societies? Do the available schools have equipment and facilities close to what your children are familiar with? These are all questions that you will have to ask yourself before deciding if becoming expats is best for your family.
Socialising within Expatriate Communities
The social scene within expatriate communities can be vibrant. Many groups often exist to ensure a full schedule of social activities, everything from wine tastings to charity auctions to pub quizzes to sports matches to trips around the area. However, some people may be put off by constant socialising, constant socialising with the same people or perceived neglect of the host country and host country's traditions. Before deciding whether or not to move to a specific area, investigate the established expatriate community and their social scene. If you like what you see then count yourself lucky. If you don't, investigate other options for socialising in that location.
Homes Away from Home
Making a home away from home can be hard, but expats usually have means to make this happen. Before deciding to move abroad, see if you can speak with expats in that community. Get a feel for how they keep their own traditions alive, if national holidays are celebrated and even how they decorate their homes, make meals or kit out their children for school. The answers to all of these questions can reveal quite a lot about your potential to make a home away from home in an expatriate community.
Living in expatriate communities abroad is not for everyone. Before taking such a decision, investigate aspects of life in a community including working, education, socialising and making a home away from home.
You might also like...