Mobile Home Holiday Rentals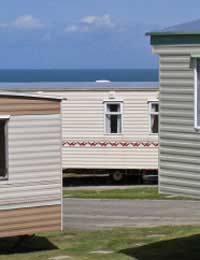 Self catering mobile holiday homes are big business. Everyone from groups of teens to young families to multi-generational holiday makers, enjoy these affordable holiday options. From the shores of Britain to Italy, France, Spain and beyond, mobile holiday homes provide comfortable holiday residences, as well as a host of amenities at their campsites, for a fraction of the cost of staying in a hotel or private accommodation. Before you plan your next holiday, investigate what mobile home holiday rentals could offer you.
Mobile Holiday Homes
Mobile holiday homes are generally homes that have been built in factories and relocated to holiday parks once they are built. Unlike purpose built houses, these homes are often considered housing units and are built according to ready made plans. Though architectural details may be basic, these units are usually soundly built, contain all of the essentials, and offer space for whole families or larger groups to enjoy the premises. Often outside patios or decks are available with mobile holiday homes as well.
Choosing a Mobile Home Holiday Rental
Finding a mobile home holiday rental can be as easy as opening a local paper, though many prospective holiday makers find that booking a whole holiday via agency or website is more efficient. If you are considering booking a mobile home holiday, investigate:
The types of mobile holiday homes available in different locations.
If the mobile holiday home includes a fully equipped kitchen, right down to cups and utensils.
If the mobile holiday home includes linens and towels.
If the mobile holiday home offers an outdoor area such as a patio or deck, and if the area boasts a grill for barbecues.
If the mobile holiday home is situated in a mobile home campsite or park, and if the site offers amenities such as pools, playgrounds or eateries.
If the mobile home campsite or park offers activities for children and teenagers.
If pets are allowed in the mobile holiday home or campsite.
Which beaches, historical sites or tourist attractions are within driving distance of the mobile holiday home.
The travel and transportation options available to and from the mobile holiday home.
Booking a Mobile Home Holiday Rental
Booking a mobile home holiday rental is a 24/7 opportunity nowadays. Whether you prefer to deal directly with the mobile home owner, to take a recommendation from a satisfied friend or neighbour, to book via a local travel agent or to scour the Web for deals, all of these are options open for you to explore. To get a little background information on mobile home holiday rentals, peruse the offerings of:
Eurocamp Holidays.
Direct Holiday Homes.
Canvas Holidays.
Keycamp Holidays.
Booking a mobile home holiday rental is a great way to bring your family and friends on a relaxing holiday but still stay within your budget. A mobile home holiday rental provides you with a safe, clean environment to enjoy your holiday and make new friends along the way. Though not often luxurious, mobile home holiday rentals are almost always family friendly, relaxed and comfortable. If you are still uncertain about your next holiday destination, investigate mobile home holiday rentals and all that they can offer you. You'll be glad that you did.
You might also like...